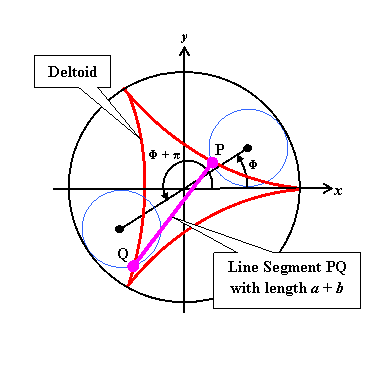 n the right, you see a point P on the deltoid produced by the inside circle having rolled so that its center makes an angle

with the x axis. You also see a point Q on the deltoid produced by the inside circle having rolled on around so that its center makes an angle

+

radians with the x axis.

Don't you now want to know what the length of the line segment PQ might be? Prepare yourself for a surprise.

The equations for the deltoid tell us the exactly locations of P and Q as follows:

xP = 2 cos

+ cos (2

)
yP = 2 sin

-sin (2

)
xQ = 2 cos (

+

) + cos (2

+ 2

)
yQ = 2 sin (

+

) - sin (2

+ 2

)
Trigonometry students know that cos (

+

) = - cos

and sin (

+

) = - sin

and that adding 2

to any angle is the same as adding zero. So our equations for point Q simply read...
xQ = - 2 cos Φ + cos (2 Φ)
yQ = - 2 sin Φ - sin (2 Φ)
For calculating the length of PQ, we first take the following differences:
xP - xQ = 2 cos Φ + cos (2 Φ) + 2 cos Φ - cos (2 Φ) = 4 cos Φ
yP - yQ = 2 sin Φ -sin (2 Φ) + 2 sin Φ + sin (2 Φ) = 4 sin
...and applying Pythagoras Theorem, we find that...
Length of PQ = [(xP - xQ)2 + (yP - yQ)2]1/2 = [16 cos2 (Φ) + 16 sin2(Φ)]1/2 = [16]1/2 = 4.
Therefore, PQ = 4 units in length. Notice, please, that PQ = 4 no matter what that angle Φ might be! Exclamation point intentional. By inspection you will see how the longest line segment that will fit inside the deltoid is indeed 4. So the solution to the puzzle is...


h, but wait. Is that the only solution? Try letting b = a / 5. The figure will have five cusps, making it a "pentoid." Do the math and you will find that for a = 5 and b = 1. PQ will be 8 units in length -- again independent of

.
Indeed, if b = a / (2k + 1) where k = 1, 2, 3..., then PQ will have the same properties no matter how large k gets to be. How about an exclamation point for that! The length of PQ will be given by [4k/(2k + 1)] a. Thus, as k increases without bound, the length of PQ approaches 2a. Hey, that's exactly the diameter of the outer circle. Which brings us all the way around to where the puzzle began.
Our efforts have produced an epicycloid with an infinite number of cusps. If there is not a name for that, let's call it a circloid.
Don't bother to look it up in a dictionary, circloid appears here first.