There are more than four dozen aircraft designs with V-Tails -- in just about every category one might care to name (amphibious jet, business jet, carrier jet, electric sport, fighter jet, general aviation, helicopter, hypersonic, jet trainer, launch vehicle, light jet, prototype, racing monoplane, sailplane, space plane, stealth attack jet, target drone, technology demonstrator, tip-jet rotorcraft, ultralight, unmanned aerial vehicle, very light jet). The most famous is the Beechcraft Bonanza.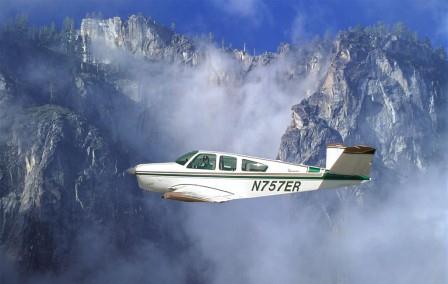 In the mid-1960s a certain aviation enthusiast had the singular opportunity to visit the Bonanza factory in Wichita, Kansas, to witness the final assembly and test flight of a Model 35 V-Tail just like the one in this picture. Then he flew the thing to Los Angeles. Hoo-hah!
Puzzle solvers will find the meaning of the portmanteau ruddervator here and a simple explanation of the aerodynamics here.
There are now more than four dozen designs of Unmanned Aerial Vehicles (UAVs) deployed by a dozen and a half NATO countries (Belgium, Bulgaria, Canada, Czech Republic, Denmark, France, Germany, Greece, Hungary, Italy, Netherlands, Norway, Poland, Romania, Spain, Turkey, UK, USA) plus a few others, of course (Russia, China,...).
The various names for UAVs include Aerostar, Aladin, Avenger, Bayraktar, Buster, Crecerelle, Desert Hawk, Dragon Drone, Dragon Eye, Eagle, Evolution, Fire Scout, Gnat, Global Hawk, Grey Eagle, Harpy, Heron, Hummingbird, Hunter, Luna, Maco, Maverick, Mirach, Neptune, Orbiter, Phoenix, Pioneer, Pointer, Predator, Raven, Reaper, Searcher, Sentry, Shadow, SilverFox, Skylark, Sky Warrior, Snowgoose, Sperwer, Sofar, Swift, Tern, TigerShark, Watchkeeper, Wasp, Yastreb. The most famous is the Predator.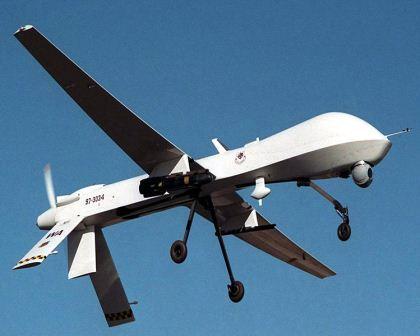 One of the most pronounced features of the Predator drone is its inverted V-Tail shown in the photograph on the left.
A vertical stabilizer is also visible below the fuselage, forming a three-part empennage. The ruddervators are each full-span control surfaces, which impose plenty of pitch and yaw authority just forward of the propeller. The Predator's autonomic control systems process commands via sophisticated fly-by-wire actuators, thus, without mechanical linkages for assuring orthogonality.
Some solvers may wonder, Why does the Predator have an inverted V-Tail? Well, now, that's the makings of a puzzle, for sure. The Internet does not seem to offer an explanation. Heck, dozens of pages about UAVs in general and the Predator in particular provide detailed specifications and operating parameters. Surely the question about that strange V-Tail has been asked on-line many times by aviation enthusiasts. Must be some kind of a secret.
Here's another question: Why has that configuration not been applied in the design of general aviation aircraft and airliners during the past century? That question is easy. Those drooping ruddervators would hit the ground during the landing flare -- if they were not already damaged as a consequence of rotation for take-off. Indeed, one on-line diagram of the Predator shows a mere 5.3 degrees of ground clearance for a pitch-up.
Manufacturer of the Predator is General Atomics Aeronautical Systems, Inc.
From: Paul Niquette
Sent: Monday, October 17, 2011 1:28 PM
To: Kasitz, Kimberly
Subject: Empennage of the MQ-1B Predator

Good Monday afternoon, Kimberly Kasitz,

During the research for a new entry at Puzzles in the Skies featuring the MQ-1B Predator, I came across a fact sheet which does not include an explanation for the unique empennage configuration – specifically the radical anhedral, which limits ground clearance in pitch-up for both landing and take-off to about 5 degrees. The empennage would seem to set other limits, as well, for example [a] aft down-looking surveillance and [b] clearances for exhaust gases from wing-launched rockets.

Please provide information for my non-commercial web-site (including GAAS preferences for attribution) or links to suitable references on the Internet which may offer answers to my questions.

Best regards,
Paul Niquette

Before reading the reply on the Solution Page, you may want to come up with...
---
The expression "Autonomic Control" has been appropriated here from its first appearance in a 1994 NIST/IEEE paper entitled Smart Sensor Networks in Railway Vehicles. The
Autonomic concept fully exploits intelligent distributed control (IDC), deriving its meaning from advantages already enjoyed in natural systems (spinal ganglia). An autonomic system will be capable of taking appropriate actions remotely with no reliance on round-trip signalling pathways to and from a centralized authority (human pilot, for example).
Now, automatic applies to primitive devices like toasters and toilets. The term autonomous connotes total independence (as in sovereign nations). That is not a useful concept for vehicular control (planes, trains, and automobiles), inasmuch as movements must be robust and fully coordinated with -- if not framed by -- external realities to assure mission success.