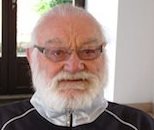 Who is best qualified to describe Suzanne Batley as an outstanding French teacher? That distinction may belong to me. Imagine an octogenarian as a beginning student in French. That was me two years ago. But this essay is not about me – certainly not about me from back then. Instead, imagine an old guy now speaking French with family and friends in our village (maybe not yet fluently) and writing in French to correspondents all over the world (albeit with dictionary at hand).
All this has been accomplished as the result of weekly one-hour sessions with Suzanne, who never speaks English to me, who does not follow a rigid syllabus but instead adapts contents in real-time to comply with my abilities and needs, who deploys an immense inventory of references, creative educational devices and proven exercises, who makes handwritten notes as we go along and then transmits audio recordings to my home for review, who makes the most of the full range of productive tools and programs that the Internet has to offer, patiently adjusting the pace to keep me challenged but not overwhelmed.
If you can imagine all that, then here's my question for you. What might you expect to accomplish in a full-emersion French course conducted by Suzanne Batley?

Find out all you need to know in Immersion at French Teacher's house in Northern Brittany.
---
Essayez de
changer le monde
,
une
idée à la fois
.
Try to change the world, one idea at a time.