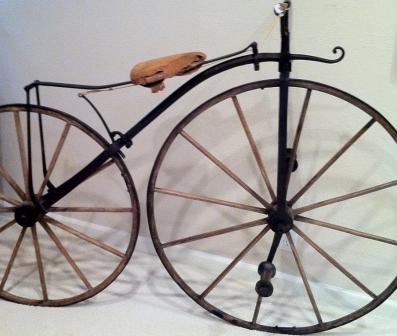 1861 Velocipede
"Fast Foot"

One of the oldest pedal bicycle in America. Hand made, with no interchangeable parts -- a bicycle invention that came along 20 years later. The wagon-like wheels have staggered spokes, a wooden 'fello', and metal 'tyre'.

Features include a vestigial horse's head, the 'spool' pedal, staggered 'compression' spokes, remotely controlled brake operated by a leather thong wrapped around the handlebar.


1865 Velocipede
"Bone Shaker"
A unique machine, hand made, with 14-spoke wheel (a story in itself) curiously shrunken rear wheel, candle lantern, and spool pedals.
A 'pendulum' keeps the flat part of the pedal on top (the idea of making the pedal flat on both sides had not yet been conceived, apparently), the candle lantern with a spring-loaded pantograph, a 'user-unfriendly' saddle, beaten from a plowshare.
The word "velocipede" dates back to 1819, "wheeled vehicle propelled by the feet on the ground," from French vélocipède, from Latin velox "swift" + pedem "foot."