Mythical Muses
Copyright ©2008 by Paul Niquette. All rights reserved.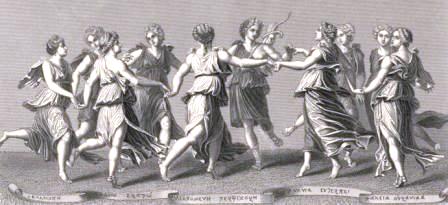 n Greek mythology, the Muses comprised a sisterhood of goddesses or spirits, who inspire creative processes. In the seventh century BC, the Muses were cast as the daughters of Zeus, king of the gods, and Mnemosyne, goddess of memory, with various -- often conflicting -- genealogies, including Alcman and Mimnermus, Uranus and Gaia. Pausanias, Harmonia (the daughter of Aphrodite and Ares) and Cadmus.
Muses have been appropriated by the Romans as the nymphs of springs, by the Völva of Norse Mythology and also by the apsarasa in the culture of classical India. Popular chicks, wouldn't you say?
Realms of artistic endeavors have been assigned over time to the Muses, becoming standardized during 12th century Renaissance. Muses are explicitly used in modern English to refer to their respective inspirations, and their collective spirits are also embodied in the word 'amuse'.

You are invited to match the names of the following Muses to their patronages tabulated below...
Calliope
Clio
Erato
Euterpe
Melpomene
Polyhymnia
Terpsichore
Thalia
Urania
Wheelia

Amorous One) -- muse of love or erotic poetry
Beautiful of Speech -- muse of epic or heroic poetry
Blossoming One -- muse of comedy, bucolic poetry
Celestial One -- muse of astronomy
Chanting One -- muse of tragedy
Delights in Dance -- muse of choral song and dance
Glorious One -- muse of history
Pedaling One -- muse of bicycling
Singer of Hymns -- muse of sacred oratory, rhetoric

Well Pleasing -- muse of music and lyric poetry
GO TO SOLUTION PAGE