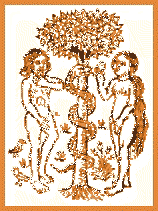 t turns out that the Biblical myth about Adam and Eve is true. Furthermore, hotshot archaeologists from the University of Massachusetts have just found their remains!

Due to a stroke of luck, the ancient bodies have been perfectly preserved in a peat bog, complete with skin, hair, and fig leaves.



---
How do the archies know
it is really the original
Adam and Eve?