My Secret Algorithm
Commodity trading is characterized by a number of salients. Here are five of them...
Price quotations move fast, changing by the minute for some commodities.
Volatility is pronounced, limited by exchange rules and ultimately by governmental regulations.
Transactions are in cash, a prescribed level of cash must be maintained in each account.
A near-symmetry prevails between buying and selling, "long-interest" and "short-interest."
Rapid turn-over is encouraged, with exchanges offering sharp discounts in fees for "day-trading."
A serious speculator must be able to follow events in real-time and make immediate decisions. In 1967, that would not have been possible for me.

Agricultural commodities were more interesting to me than metals, but the prices for grains jumped around too rapidly to follow on a part-time, day-by-day basis. Potato futures moved more gradually -- and something else. I began plotting daily quotes from the newspaper on a pad of quadrilled paper and discovered a 'technical' pattern for market prices in the form of a zig-zag within what I called a 'channel'. Thus did the recent past seem to offer clues about the near future. Groping for First Principles, I theorized that the top of the channel ("resistance level") resulted from long-interest profit-taking, and the bottom of the channel ("support level") resulted from short-interest profit-taking. Compliant reasoning might call for going 'long' at the support level and 'short' at the resistance level.

oday there are abundant, up-to-the-minute plotting services on the web, some actually automating the analysis of patterns like "point-and-figure," "head-and-shoulders," and other technical totems. To my astonishment back in 1967, I found no published graphical presentations for commodities. I began developing an algorithm for my own speculations. After a few paper-only test cases, I sent Pete a check with instructions to open a commodity account. Later that week, I dialed him up.

"Pete, Paul."

"Yeah, Paul."

"Potatoes in May."

"What about potatoes in May?"

"Place a buy order at market for three contracts."
Without describing My Secret Algorithm, I instructed Pete to place two sell-orders, one at a price 10% below market and the other at 10% above market.

"Stop-Loss, I understand, but why the second sell-order?"

"Call it a 'Stop-Profit', Pete."

" 'Stop-Profit'? Never heard of it."

"Before today, you mean."
'Stop-Profit' was the best feature of My Secret Algorithm, I think: Give half of the profit (and risk) within the 'channel' to somebody else. Then, too, setting up 'round-turn transactions' relieved me of all real-time decision-making.
A few days later, I received a slip in the mail from the broker's back-office reporting that the 'Stop-Profit' sell-order had been executed and that my account had been credited accordingly. Hoo-hah! Next day, I studied my quadrilled paper with the jagged lines on it, then called Pete.

"Pete, Paul."

"Potatoes in May again?"

"This time let's place a sell-order at market for four contracts?"

"You want to go short for four?"

"Yeah, and place two buy orders: 10% Stop-Loss and 10% Stop-Profit."
A few days later, I received a slip in the mail, this one indicating that the 'Stop-Profit' buy-order had covered my short interest and that my account had been credited accordingly. The story repeated itself for several weeks. Pete and I kept our conversations terse in the extreme. Kind of bravado, I suppose. Or superstition. My commodity account suffered only one 'Stop-Loss' in potato futures.
Here is a flow-chart for My Secret Algorithm...

The sketch below depicts how the round-turn transactions were structured. Relatively greed-free, don't you think? Successful transactions, both long and short, exploited the fluctuations within the channel. There were idle periods in between, giving up half the potential profit to other speculators. For illustration, the channel is shown trending upward, then changing direction, triggering a Stop-Loss.

Months of successful commodity trading can do wonderful things for one's bank account -- and ego. On the way home from the office one day, I saw a 1966 Corvette Stingray on a dealer's lot. Inasmuch as commodity accounts are pure cash, at any time and without closing out open transactions, you can request the broker to send you a check from your account. That's exactly what I did.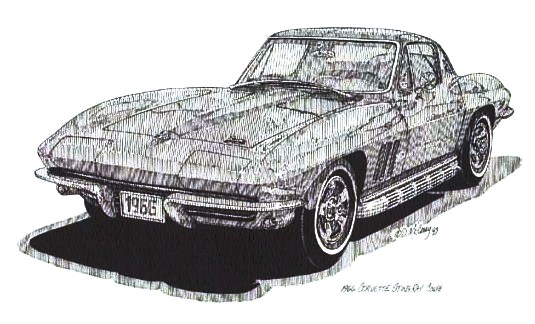 Naturally, I christened the Stingray My Potato Car.
ack to that midnight phone conversation during a raucous party. Seems I abandoned proven disciplines in My Secret Algorithm. No systematic plotting of market prices, no confirmation of 'channeling'. Foremost, I did not know eggs from my elbow. In my ego-driven state-of-mind, I neglected to assure that a Stop-Loss would be put in place. It appears that Pete had something of an ego, too. He must have felt a need to assert himself, to make a big play, to garner family recognition.
Because of sudden volatility, trading in eggs was suspended by the exchange, which meant that an emergency sell-order could not be executed. As the bottom fell out, my account was depleted by an amount corresponding to the offer for Baron Niner-Seven Lima -- plus a "margin call," which I had to cover immediately. Cash, remember. I dialed Pete's number for the last time.

"Pete, Paul."

"Yeah, Paul."

"Close my account."

"OK, Paul.
The check from the brokerage house was a few bucks less than the total cash I had invested. Whew!
All I had to show for My Secret Algorithm was -- well, My Potato Car.