True story:

During Pope John Paul's U.S. pastoral trip in 1987, a number of commemorative products sprung up. Coffee mugs, ceramic tiles, and barbeque aprons were everywhere featuring images of the Pontiff. Ace Hardware had a sale on animated lawn sprinklers inscribed with "Let us spray." There were molded cleansing agents made from the salts of vegetable fats ("Pope Soap"). My favorite included a nylon cord to be conveniently suspended on a showerhead: "Pope Soap on a Rope."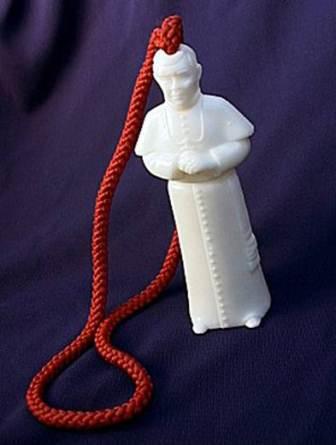 Now the story...
A late-night fuel-stop in Cardinal 34914 at a remote field in Nevada found the flightline closed and the FBO (fixed-base operator) unavailable until morning, which necessitated an unplanned RON (remain overnight). At the closest motel, a toothless codger with a scruffy beard handed me the room-key and a fresh towel.

"Do you have any Pope Soap on a Rope?" asked I with a grin.

The old fellow shrugged as if he had been responding to the question all week. "Nope."
All right, so you had to be there.

That personal memory has been vivid enough to deprive one century-old word of its usefulness.